GRQ Hydrogen Valley Airport Europe's first "GRQ Hydrogen Valley Airport" is under development at Groningen Airport Eelde (GRQ).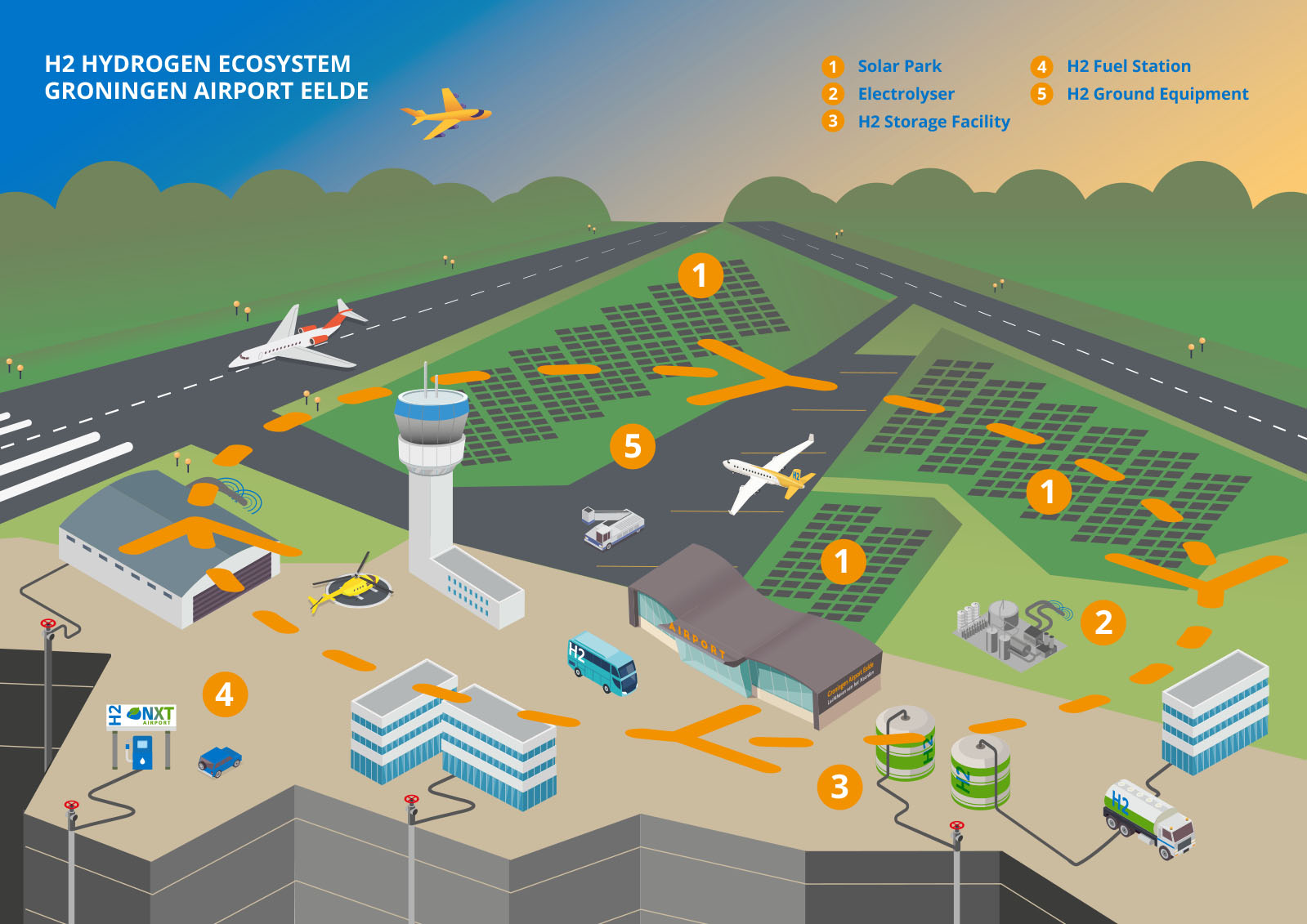 Our H2 Hydrogen ecosystem
The full-scale hydrogen ecosystem includes green hydrogen production, distribution and use. The starting point is the existing 22 MW solar farm, the largest airside solar farm at an operational commercial airport, with 63,000 solar panels. The airport is located in Europe's first Hydrogen Valley, being built by the Fuel Cells and Hydrogen Joint Undertaking (FCH-JU) and supported by the New Energy Coalition's HEAVENN project and a €9bn regional hydrogen investment agenda. The four- to five-year project includes research, development and realisation of an electrolyser by using the solar park to produce green hydrogen on-site – a trailer-filling facility that will allow mobile storage to be filled. This will enable both on-site and off-site distribution of green hydrogen, including a hydrogen filling station serving both land and air vehicles. At this station, Fuel Cell Electric Vehicles (FCEV) – and at a later stage aircraft – can be fuelled, leading to emission-free ground handling. The switch to green hydrogen, combined with the use of green electricity, will ensure that the full decarbonisation of airport operations is demonstrated.
To make effective use of the regional emission-free infrastructure, connections will be made with the already existing regional hydrogen distribution system, developed under various EU-backed projects (TSO2020, DJEWELS). The link with the HEAVENN project and the integrated production and green hydrogen within it can contribute to the robustness and operational excellence of the GRQ Hydrogen Valley Airport system, facilitating the advance and scale-up of green hydrogen solutions.
By leveraging the operational experiences of the scalable ecosystem of the emission-free GRQ Hydrogen Valley Airport, other airports will not regret their choices in implementing green hydrogen solutions and unnecessary delays in achieving the ambition to operate emission-free will be avoided.