The airport as a place to learn
The Airport Campus within NXT Airport is a multidisciplinary environment where education is applied in hybrid form, with the airport as a unique environment for learning. The Airport Campus provides space for new courses and minors focused on aviation and tourism.
NXT Campus
Under the flag of NXT Airport, educational institutions will find a place in RLS1957, teaching at a highly dynamic airport location and collaborating among themselves on projects. Alfa College with the Security course, Noorderpoort with the Aviation Services course and Deltion College, engineering, have found their place on the Airport Campus in RLS1957, working with each other and the business community on sustainability and innovation projects.
KLM Flight Academy
The KLM Flight Academy has been based at Groningen Airport Eelde for almost 70 years. In an era of innovation and sustainability, a new generation of pilots is trained here. Recently, De KLM FA welcomed another new and more sustainable teaching aircraft, the Diamond DA42 Twinstar.
KLM Flight Academy considers it important that its flight training takes place as sustainably as possible, i.e. with as little CO2 emissions and noise pollution as possible. The DA42 fits well within this objective because the aircraft is economical and flies on paraffin (just like commercial aircraft) instead of petrol. This makes it possible, when available, to switch to Sustainable Aviation Fuel such as biofuel. To replace the single-engine aircraft in the fleet, options have previously been taken on electric training aircraft, which are currently being developed and expected to become available within 4-5 years.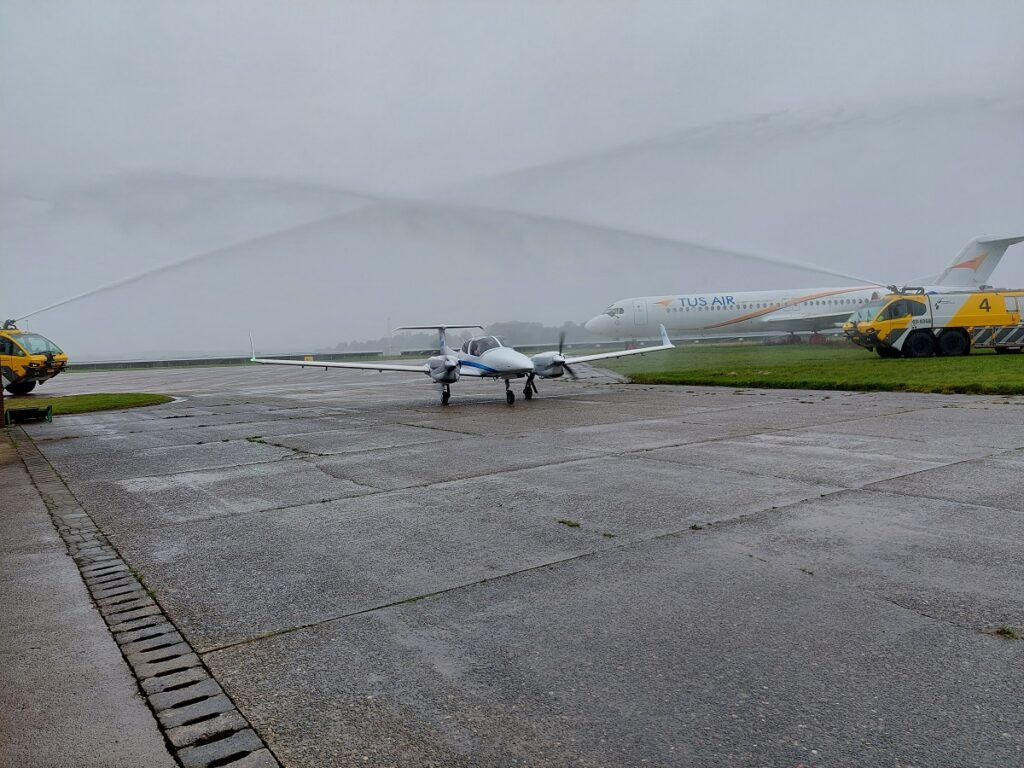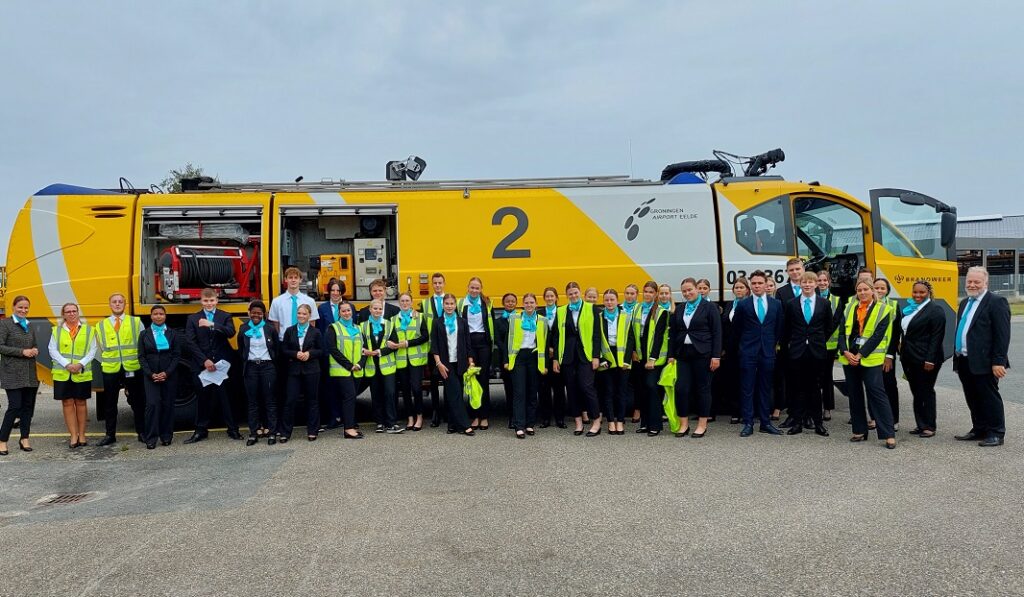 Noorderpoort
Groningen Airport Eelde has started offering practical lessons for students of Noorderpoort's Aviation Services course. At the airport, students receive training in areas such as check-in, boarding and hospitality. The training consists of practical lessons and the students also spend an afternoon in practice handling a flight. In summer 2022, 40 students had the opportunity to take a seat behind the airport check-in desks.
From September 2022, 60 students started the course and attend classes every week at the NXT Airport Campus.
Alfa College
Alfa College's Safety & Security course is also already using NXT Airport Campus and taking classes in RLS1957. They have a unique collaboration with security company Securitas, with students also doing their internships in airport security.
Together with teachers and students from the Technician Engineering course, they are looking at a collaboration for hydrogen projects. Students created a scale model hydrogen ecosystem and handed it over to the airport. The scale model shows how green electricity from the existing solar park at GAE is converted into hydrogen and how it is then stored, distributed and taken away at the airport.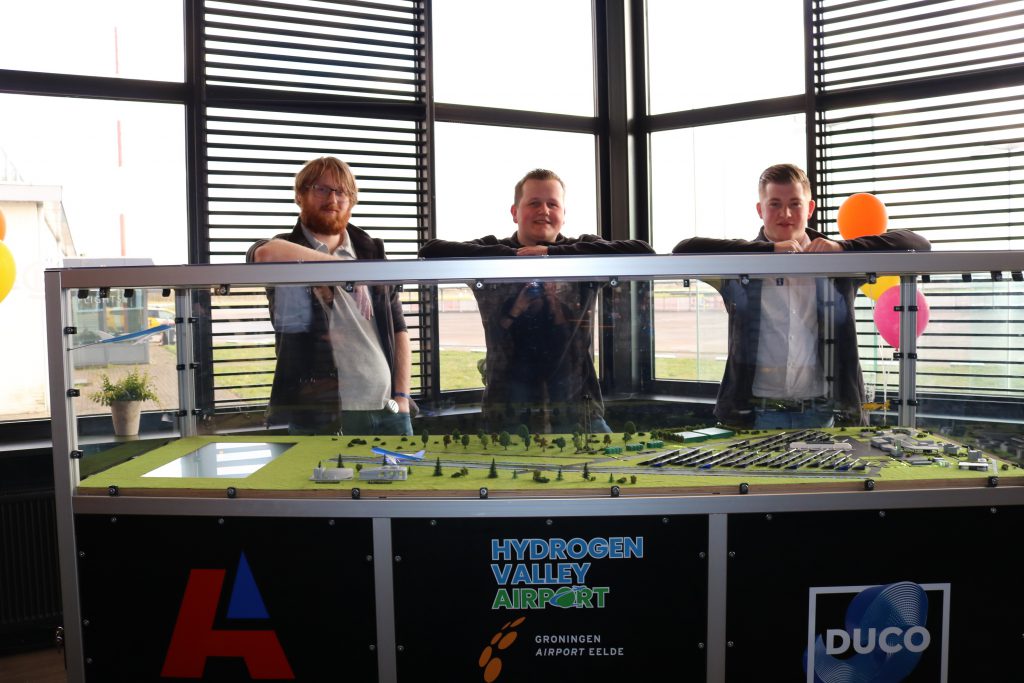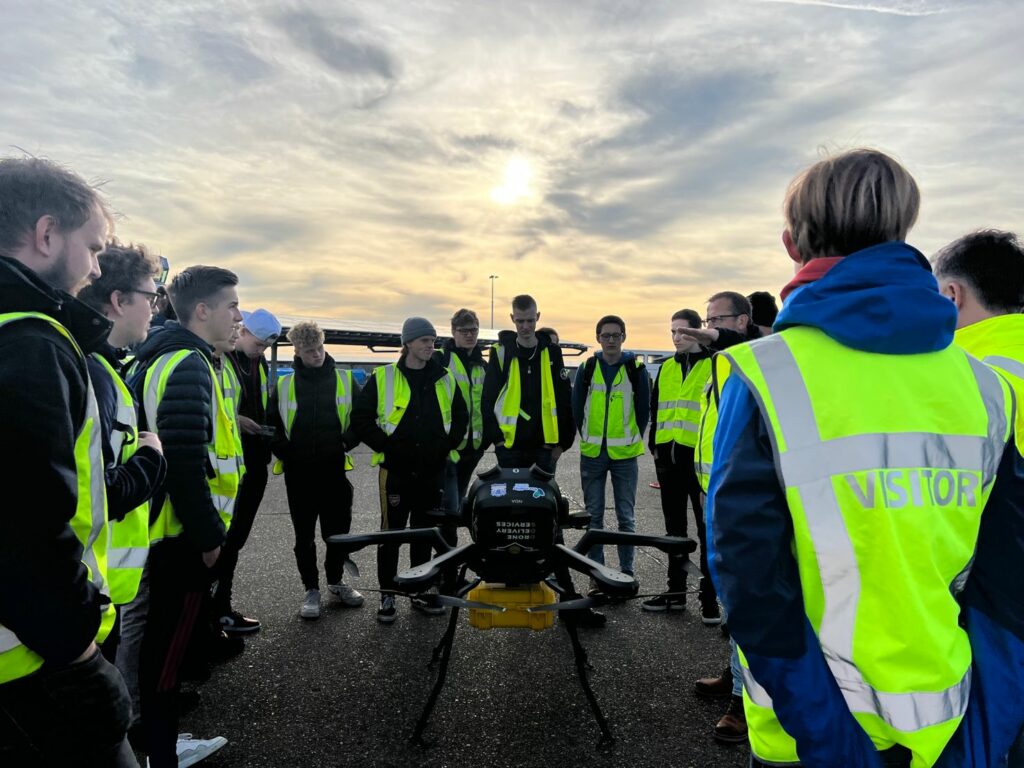 Omnidrones Academy
Airport-based OmniDrones is launching the Omnodrones Academy in collaboration with Noorderpoort College. A drone pilot training course, partly on site. Thanks to this collaboration, Noorderpoort students can use the professional teaching materials available to OmniDrones Academy. In addition, Noorderpoort itself offers courses on flying drones.
New learning community on smart and sustainable aviation
HIVE LAB – Groningen Airport Eelde links aviation innovations to education
Developments within the transition to sustainable and smart aviation are rapidly following one another. To share and secure issues, knowledge and experience from practice and education, Groningen Airport Eelde (GAE) and Hive.Mobility, in collaboration with Noorderpoort and MBO College Airport, have taken the initiative to set up the learning community HIVE LAB – GAE.
In the learning community, various organisations from the aviation and engineering sector actively cooperate with education. Issues from the sector are shared within the community with the aim of exchanging knowledge and experience as well as finding smart solutions. Within the learning community HIVE LAB – GAE, in addition to the initiators, companies and educational institutions such as DroneHub Noord-Nederland, House of Aviation, Deltion College and Hanze University Groningen work together.